Rice husk is main supplementary material and filler for liquor-making, the quality of rice husk is the key for liquor quality. With development of wine factory and mechanization liquor-making, the demand for rice husk is also enlarging. Its transport, cleaning, storage how to adapt to the requirements of mechanized wine technology is an urgent problem needed to be solved.
On storage of rice husk in winery, considering husk's character of easy to bridge, still using legacy package or bulk storage in warehouse to store the rice husk. Which bring large difficult to mechanization liquor-making. We analyzed an discussed about 3000ton capacity rice husk storage in HengShui Laobaigan winery. Combine success experience on other projects. We put forward a solution that storage with a steel silo, and multi-outlets structure. With proper-mothed of arch-broken method, can realize rice husk storage with a steel silo, provide a good condition for automation cleaning, transporting and storage of rice husk.
1. How to choose discharging method for rice husk silo
Usage of steel silo in rice husk storage is still lack, reason for this condition is its difficult to discharge. We used to apply several solutions to proposal design in rice processing industry. Such as pants shape double outlets in φ16 silo, 4square outlets in φ13m silo ,4 hopper cross division bottom design in φ11m silo, V shape groove multi outlets design, etc. Although these design haven't solve the problem of husk bridge(especially when the storage time is long) but we still get much experience from it . However depend on breaking bridge by labors, the process will run normally after all. Among these solutions, the V shape groove multi outlets solution has best effect. Consider V shape multi outlets design and pants shape double outlet design need higher silo foundation, so hopper cross division bottom is the best choice.
2. Silo pattern and structure design
Generally we use LIPP silo to store rice husk. LIPP silo has advantages of: high overall performance, long life span , perfect sealing performance, short construction period,low cost, small land occupied, easy to manage, high strength, etc. Silo foundation usually C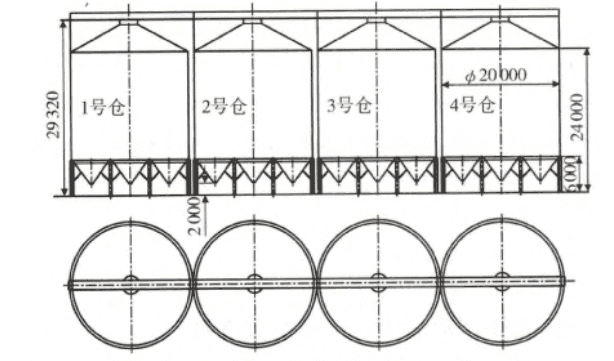 Proposal design for 3000ton rice husk storage
3. How to break bridge
When the storage time is long or humidity of husk is too high, bridging will occur. Or form a hopper flow, resulting in rusk can't discharging by gravity. TO solve the problem, we can leave several small hole with quickly open door, once the bridging occurred, we can insert some slender pole into the hopper to break the bridge. And there are other available solution like vibration discharger or silo fluidizer
By taking these method, we can achieve our proposal of automatic cleaning , transporting, storage.

-- by Jackie