Rice, as an original material of food, it is indispensable for every family. Paddy is a staple food in south, it is usually called as rice, the polished glutinous rice is that the seeds with rice husk , it is the subspecies of ordinary rice belong to the cultivated rice subgenus of the grass family rice in phytology.
Rice has hard hull which can resist the harm of the insects and moulds and the influence of outside temperature and humidity to a certain extent, so it is very strict to the in-storage quality, storage condition and storage management.
1. Storage points of rice:
Improve the quality of in-storage rice. Rice should be fully aired and dried before in-storage, and be strict of sieving or winnowing and removing contamination. The safe moisture-content of indica rice should controlled under 13%, the medium to short-grain nonglutinous rice should be less than 14%. Try to remove the impurities and imperfect grain, when necessary, carry out the grade storage for rice.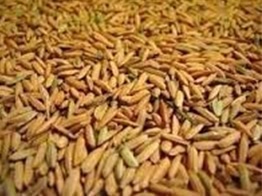 2. Scientific Management of Stored Rice
As rice breathe vigorously, the grain temperature and moisture content is high, so we should pay attention to timely ventilation, cooling and dropping wet. After the autumn grain crops are out in storage, if the temperature plunged, it is easy to condensation in grain bulk surface to increase surface moisture content and grain bulk temperature difference between and outside, it is unfavorable for storage. At this time, we should increase ventilation or adopt the artificial ventilation, combined with the deep turning of the grain surface, distribute the grain bulk damp and hot, and timely reduce the stored grain moisture content to prevent form condensation. In the cold and dry weather in winter should also be ventilated, so that the temperature can be reduced to 10℃ to make moisture content reduce to safety standards, in order to realize the low temperature storage; The rice should be sealed tightly before temperature rises in spring.
For the husk portection of stored rice, the rice taste is easy to maintain and resist to storage, and the storage volume is large in steel silo. If the storage condition is good, there is no difference between the grain storage and rice storage. No matter whether the grain storage or rice storage, these are the essential for steel library: ①dry ant not easy to damp; ② shade and low temperature, no fever; ③ circulate air.
Corollary Equipment: When the grain temperature reach a certain extent, the application of temperature measurement system and ventilation system can be used, can open the ventilation system so that the air of grain can flow , reduce temperature and no fever.