Steel silos can be used for grain storage and for storing many varieties of cereals such as rice, wheat, beans and corn.
Rice is the staple food of the east Asian people. What are the characteristics of rice storage? How do we store it correctly?
Storage characteristics of rice
The hard shell of rice protects the grain against insect pests. As a result, rice is easier to store and maintain than regular grains. However, rice tends to germinate and is not resistant to high temperatures, so special attention needs to be paid to ventilation and temperature and humidity adjustments in the silo during storage.
Most rice varieties have no late maturity, they have physiological maturity and germinating ability at harvest. Moreover, the amount of water needed for rice to germinate is quite low. Therefore, if the rice is constantly exposed to rainy weather during the harvest, it will be unable to harvest,the rice will germinate in the field.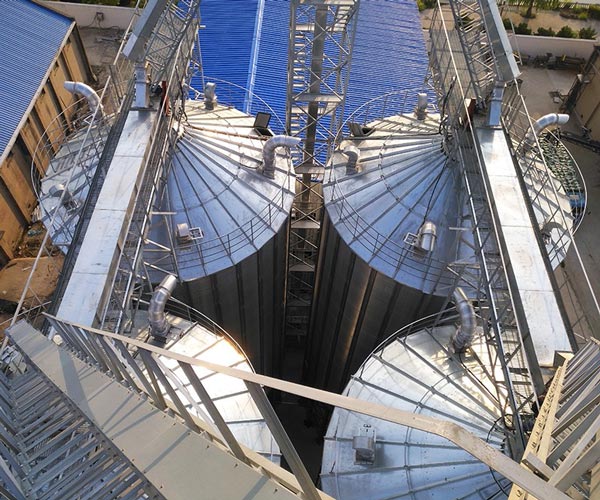 Stored rice also tends to germinate in heavy fog, damp or rain. If the rice is not threshed or dried in time, it will easily turn yellow in the water. The quality and storage stability of rice will be greatly reduced after germination and yellowing.
Rice does not withstand high temperatures. Summer stocks of rice are probably out of date. Rice exposed to the sun or with a sudden cold after exposure tends to develop cracks in the surface of the grain.
If the temperature drops soon after the newly harvested rice is stored, the surface of the rice will condense dew, which will increase the moisture content of the surface grain and discourage storage. At this time, to timely reduce the water content of the surface particles.
For
Rice Silo
in China, SRON is an ideal choice.SRON has been appraised as Member of China steel silo industry, qualified contractor for China National Reserve. Further with our advanced manufacturing craftsmanship and deep experience, What's more, SRON is China Leading turn-key solution contractor for silo system and high strength steel structure.