1. The design process should be determined after the comparison of technical technology according to the total storage capacity of silo, using function, requirement, in and out material method etc.
2. The process design should include: technological process, equipment selection, dust removal system, mechanical ventilation, noise control, pest control, etc.
3. When the number of steel silo is large and the operation is complex, the working tower should be provided; When the number of the steel silo is less and the operation is simple, it is not necessary to install the working tower, and can adopt the hoister tower, put in storage directly by distribution plate or slide pipe.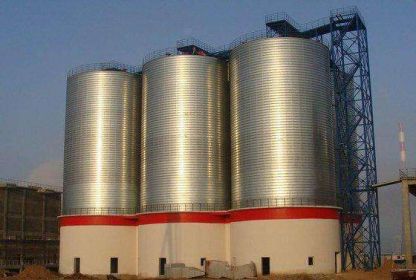 4. The process equipment layout shall meet the requirement of equipment hoisting, operation and maintenance space.
5. The steel silo with diameter below 10m should adopt the gravity-flowing discharge method, silo bottom slope α should meet the following requirement: wheat, soybean, corn: α≥40°; paddy:α≥45°.
6. The flat bottom steel silo can choose the clearing machine, fluidization discharge grain or other facilities.