Sep.29, 2022Keywords:Grain Storage Silo, Steel Silo, Superior Properties of Steel Silos
As a new type of silo, after 30+ years of development, steel silo has become popular all over the world, widely used in all aspects of grain storage and transportation, and has become a modern symbol of bulk storage in the grain industry. It all depends on the three superior properties of steel silos:


1. Superior Applicability
Steel silo has excellent performance in realizing grain storage mechanization and automation, such as grain loading and unloading, monitoring and processing of grain condition, ventilation, temperature measurement, etc.

2. Superior Economy
The steel silo has the lowest construction cost among all silo types. In addition to the low cost of the silo itself, the cost of the basic part is also low. It is only 1/2 of the cost of the reinforced concrete silo. Compared with the current brick-concrete structure silo, it also save 20% of your investment. As the price of steel falls further, construction costs will also gradually decline.

3. Superior Constructiveness
The steel silo is highly constructive, with simple foundation requirements, fast construction, and is not affected by weather. After understanding the superior performance of the steel silo, the user should also pay attention to the following issues in the construction:
1. Selection of Steel Silo Materials
The steel silo usually chooses ordinary type of steel, preferably Q235, which is convenient to obtain and low in cost. If the calculated silo wall thickness exceeds the production capacity of the equipment, low-alloy steel is used instead of Q235. The silo wall of the steel silo is usually galvanized to meet the anti-corrosion requirements. Therefore, the galvanized layer has become a very important indicator for the construction of the steel silo, which directly affects the service life of the steel silo, and the amount of galvanizing is required to be 400 grams per square meter.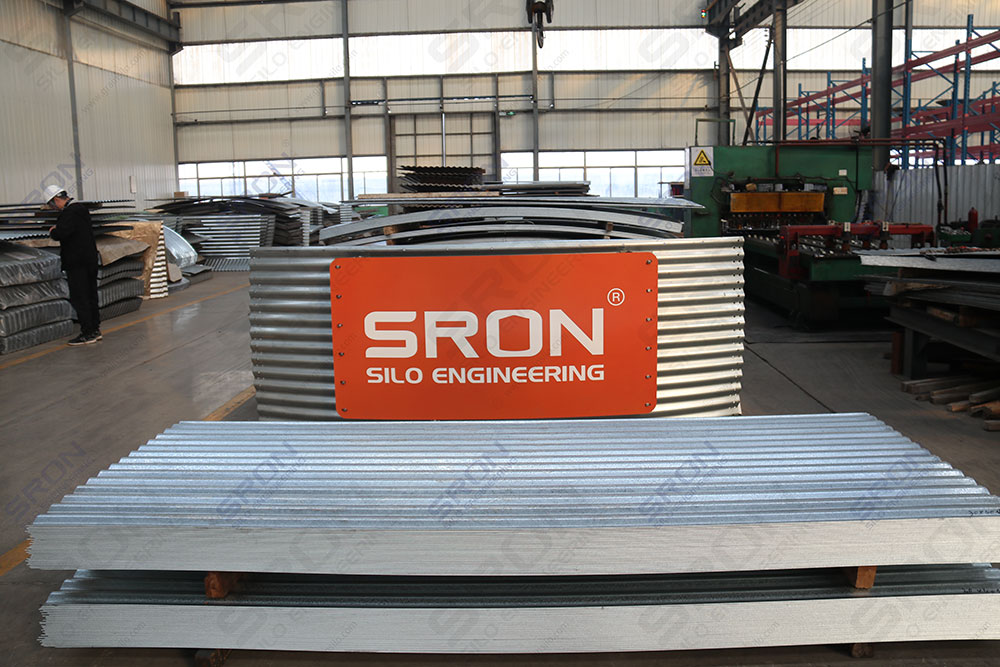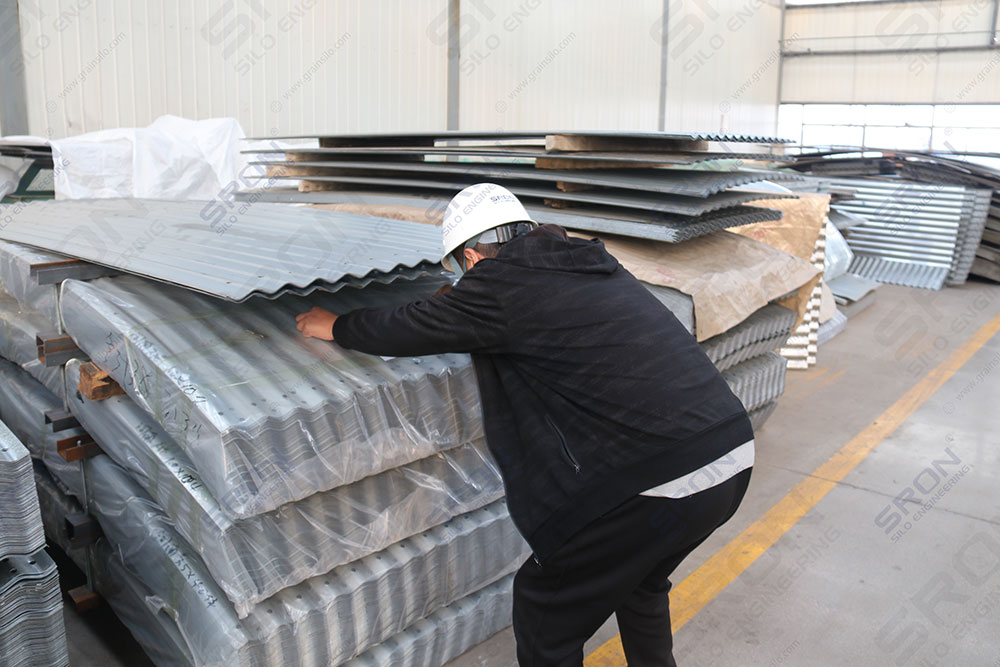 2. Selection of the Form of Steel Silo
There are two types of thin-walled steel silos currently prevalent in steel silos: spiral type and bolted type. They have their own characteristics because of different construction methods.
Features of Spiral Steel Silo:
1. Continue undercut forming with hot-dip galvanized coil, the color is more average;
2. High air tightness, can store liquid materials such as water and oil;
3. Because the inner wall of the silo is lubricated, the required thickness is larger than that of bolted silo.
Features of Bolted Steel Silo:
1. Both hot-dip galvanized coil plates or flat plates and electro-galvanized sheets can be used, which is more convenient to obtain materials;
2. All units are standard components and are replaceable. Users can easily replace damaged parts and extend their service life if they are damaged or corroded during use;
3. It can be renovated and demolished, and it is very suitable for users who are particularly concerned about leasing sites;
4. The outer column method can be completed, which is more beneficial to the movement of grain in the silo;
5. The air tightness is poor, but after using the silicone sealant, the air tightness requirements can be met;
6. It can easily complete the double-layer thermal insulation structure, and the cost increase is very small.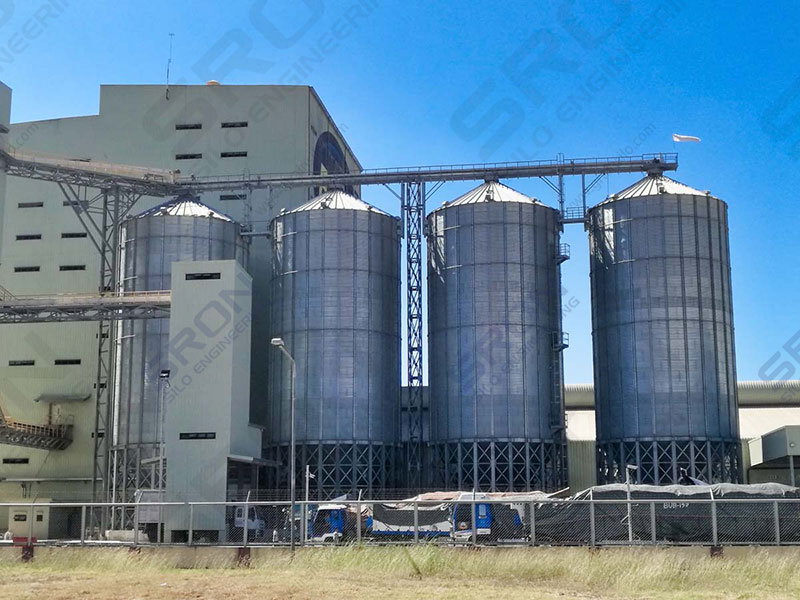 3. Selection of Basic Form of Steel Silo
There are two basic forms of steel silo: flat-bottomed and cone-bottomed. Flat-bottomed silo: generally suitable for large-diameter silo, and need to be equipped with a sweeper or manual clearance. This form of construction is relatively easy and the cost is low. Cone-bottomed silo: Considering the self-flow of grain output, the cone-bottom form is widely used. The cone-bottom is divided into three types: full-steel cone, half-steel cone and cement cone. In terms of use, there is not much difference between the three, but there is a way named backfilling: a cone is filled in the silo. Although this method reduces the difficulty in the construction process, it wastes the material and silo capacity of the steel silo and increases the civil engineering. Therefore, the user should comprehensively consider the above points when choosing a construction plan, so as to maximize the performance-price ratio and the most perfect investment effect.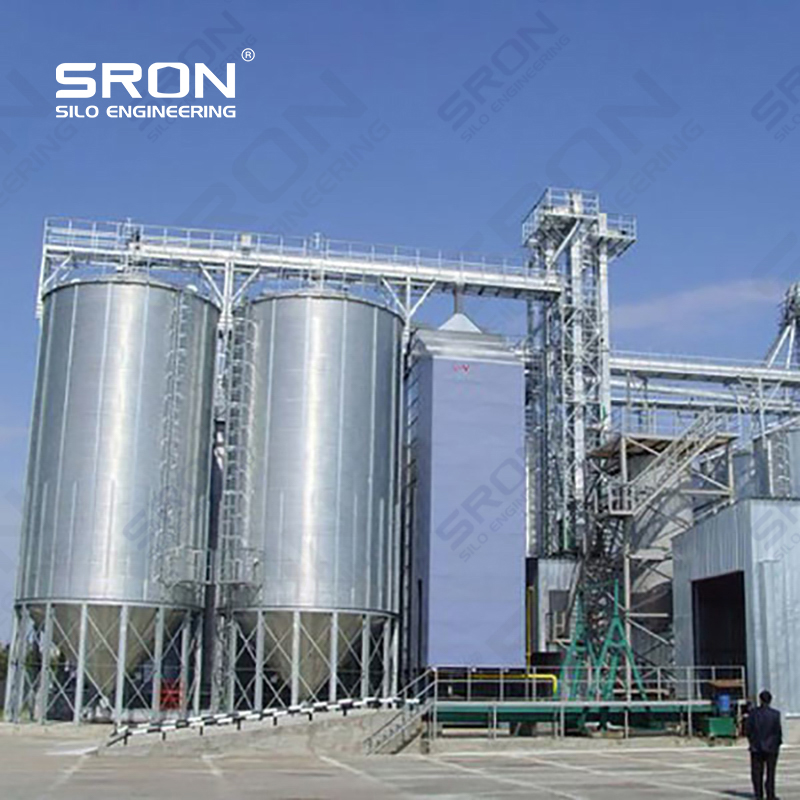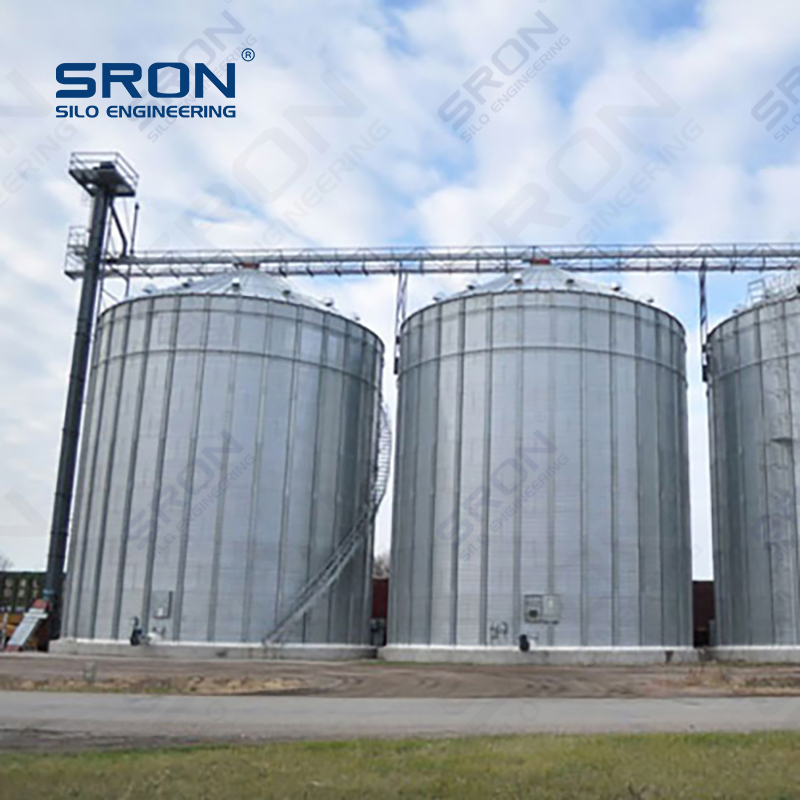 About Sron Silo Engineering

HENAN SRON SILO ENGINEERING Co., Ltd. is China leading reputable EPC Contractor for grain storage silo project, closed storage yard, and grain port handling project for grain silo storage solution etc. SRON has the qualifications of Main Contractor for civil construction projects, Main Contractor for mechanical and electrical projects, and Specialized Contractor for steel structure project. We have the complete qualifications in the field of bulk material storage and transportation in China.

SRON focuses on scientific and technological research, achieving new researching technologies each year. Currently we have 62 patented technology, among which 7 are invention patents.

SRON have built projects in more than 30 countries and regions, including Russia, South Africa, Indonesia, Malaysia, Kenya, Mongolia, Philippines, Peru and so on, with more than 900 sets of steel silos and up to 3 million tons of materials storage capacities, SRON quality and reputation are highly recognized by global users. For more information about Sron Silo Engineering and the Storage silo solution, please contact us or leave your requirements.
Technology Builds the Beauty of Project