During the storage process of grain, due to the influence of environmental temperature and humidity and other factors, mildew, insects and other situations that endanger food security may occur.
According to a survey by the United Nations Food and Agriculture Organization, the world's annual food mildew loss is 3%, insect pests loss 5%, and totaling 8%. Therefore, long-term storage of food needs to take necessary precautions to reduce the occurrence of damage.

SRON

uses the most advanced technology to ensure food security and create maximum benefits for clients.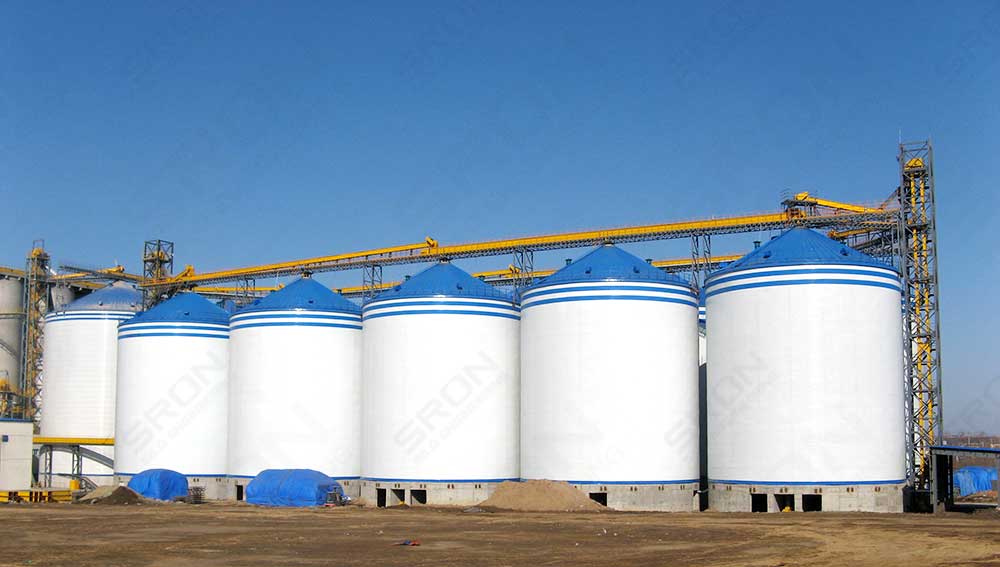 Ordinary

steel silo

cannot be insulated and has poor air tightness, so it can only be used as a turnover storage silo. Airtight thermal insulation steel silo is a new storage silo developed and upgraded on the basis of ordinary steel silo by adding heat insulation and air tightness functions. The air-tight and heat-insulating effect is good, and it is energy-saving and environmentally friendly. It is a replacement product of the traditional silo type.


A long-term storage silo must meet the following two conditions:


Thermal insulation:
prevent external heat from entering the silo, reduce the temperature in the silo, and ensure safe grain storage. The wall thickness of the standard room-style silo is 490mm.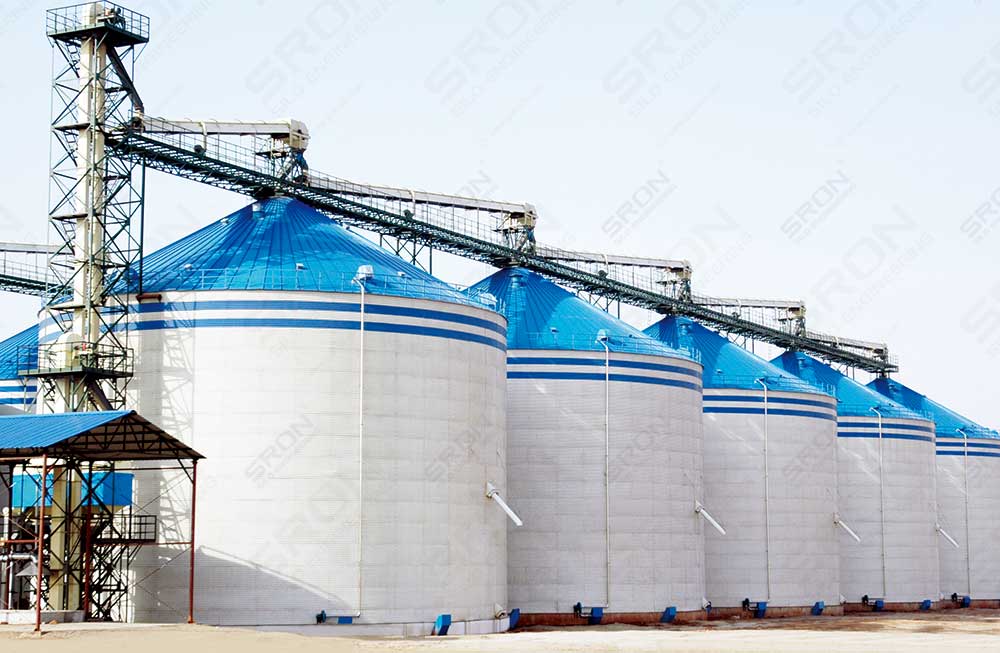 Air tightness:
①When the grain is fumigated to kill insects, ensure that the medicine in the silo does not leak and the concentration of the medicine in the silo; ②It can realize green controlled atmosphere storage of grain.
The air-tight thermal insulation steel silo adopts the cold bridge-free thermal insulation technology to solve the problem of thermal insulation, and the thermal insulation effect is equivalent to a concrete wall with a thickness of 3 meters. The air-tightness problem is solved by the combined air-tight technology, and the half-life period is reduced from 500Pa to 250Pa and reaches 5 minutes, which fully meets the requirements of grain modified atmosphere and fumigation.


The main technology of airtight thermal insulation steel silo is briefly introduced as follows:


When the external environment is under high temperature and high humidity conditions, it can be equipped with a grain cooling system, which can quickly reduce grain temperature and grain humidity and ensure food security. The grain cooling system is a very good choice in tropical regions.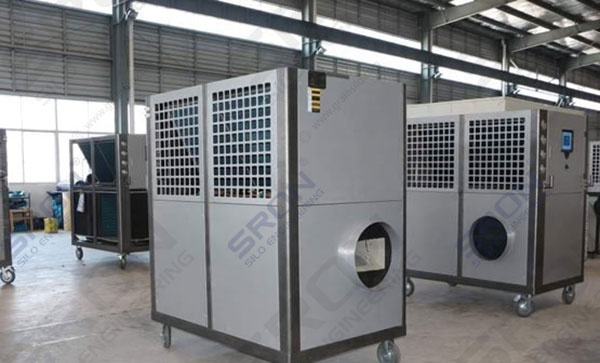 The medicine is circulated in the silo, the dosage of medicine is small, and the fumigation is safe and efficient.

Online monitoring of the temperature of various parts of the grain, as well as the temperature and humidity inside and outside the silo, to discover special grain conditions in time.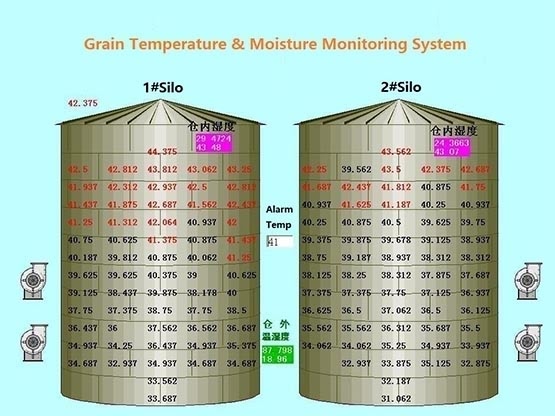 4. Nitrogen-rich Air Conditioning Technology
Advanced technology, safe and environmentally friendly, non-toxic and harmless, no drug residues.
When the grain situation occurs, mechanical ventilation is used to reduce the grain temperature, and the moist air is discharged in time to ensure grain safety.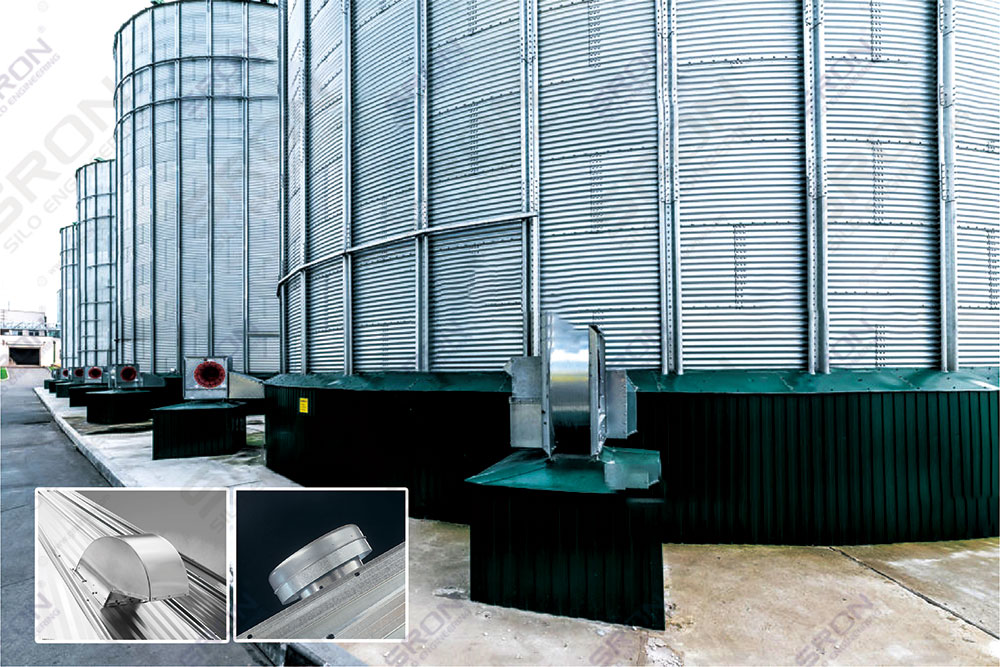 About Sron Silo Engineering

HENAN SRON SILO ENGINEERING Co., Ltd. is China leading reputable EPC Contractor for grain storage silo project, closed storage yard, and grain port handling project for grain silo storage solution etc. SRON has the qualifications of Main Contractor for civil construction projects, Main Contractor for mechanical and electrical projects, and Specialized Contractor for steel structure project. We have the complete qualifications in the field of bulk material storage and transportation in China.

SRON focuses on scientific and technological research, achieving new researching technologies each year. Currently we have 62 patented technology, among which 7 are invention patents.

SRON have built projects in more than 30 countries and regions, including Russia, South Africa, Indonesia, Malaysia, Kenya, Mongolia, Philippines, Peru and so on, with more than 900 sets of steel silos and up to 3 million tons of materials storage capacities, SRON quality and reputation are highly recognized by global users. For more information about Sron Silo Engineering and the Storage silo solution, please contact us or leave your requirements.
Technology Builds the Beauty of Project