Mar.02, 2022Keywords:spiral steel silo, grain silo construction, corrugated silo, steel silo design
Construction and process design of steel silo
Spiral steel silo is rapidly developed because of its reliable safety and long service life. Currently, the diameter of spiral steel silo is in the range of 3-25m, the largest height to diameter ratio is 5.75, the largest height of spiral steel silo is 31.5m, and the largest spiral steel silo capacity is 6500t.


Deliver spiral steel silo manufacturing equipment to silo construction site, put 495mm wide galvanized coils into shaping machine through coil opener to make them into required shapes, and carry out bending and biting (5 layers of spiral coils) processes through biting machine for forming 30-40mm wide continuous spiral convex ribs around silo side. Use several running frames and supporting wheels to drive coils spiral upward and form silo side wall. Install silo roof when the height of silo wall is around 1m. In the subsequent formation of the side wall, the vertical reinforcing ribs are installed close to the inner side of the side wall to support the silo. When the side wall reaches the set height, fix the spiral steel silo with foundation.


Advantages and weakness of spiral silo
Low weight, high strength, long service life, short construction period, low cost, good air tightness, high degree of mechanization and wide application, but spiral silo volume is limited (currently diameter of spiral silo is less than 25m, and silo capacity is less than 6500t) and it is non-detachable.


Galvanized corrugated bolted steel silo is developed and innovated based on foreign advanced technologies, steel silo design software and silo manufacturing standard, and it is reliable in strength, performance and safety. Currently, the maximum diameter of corrugated steel silo is 32m and the maximum corrugated steel silo capacity is 17000t.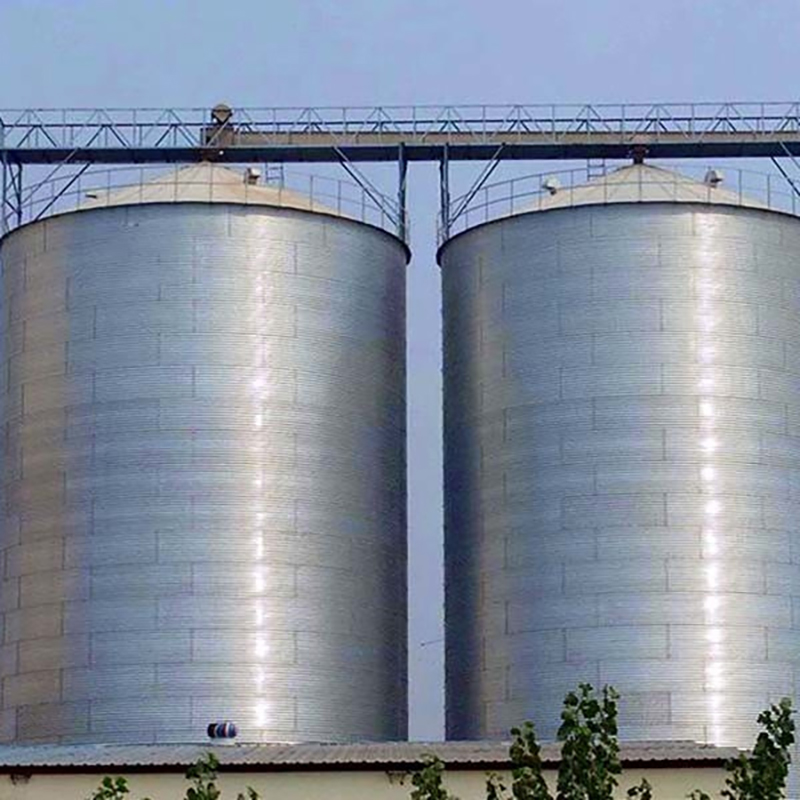 Corrugated

silo construction
First, manufacture silo components (silo roof, silo wall, stiffener and other parts) and transport them to grain silo construction site. Then make sure grains silo construction position according to the diameter of corrugated silo, install lifting equipment and fix it. The next step is silo body installation, use high-strength bolts to connect side wall plates and stiffener in order for supporting side wall of silo. Begin silo roof installation after the installation of first circle of side wall plate, use high-strength bolts to assemble components of silo roof, after silo roof installation is completed, continue to install side wall till it reaches to designed height, then connect the silo with embedded parts.


Advantages and disadvantages of galvanized

corrugated bolted steel silo
Light weight, small requirements for foundation, high standardization, simple construction, detachable design, long service life, large silo volume and low cost, but its air tightness is not as good as spiral silo and its maintenance cost is high.