How to choose the size and tonnage of grain bolted steel silo?

Grain steel silos are almost applied to all grain industries, among which grain and oil processing plants and grain port terminals are the most widely used. How to select the appropriate steel silo storage specifications? This shall be selected according to the different storage capacity and materials of steel silo in different industries. There are roughly the following situations: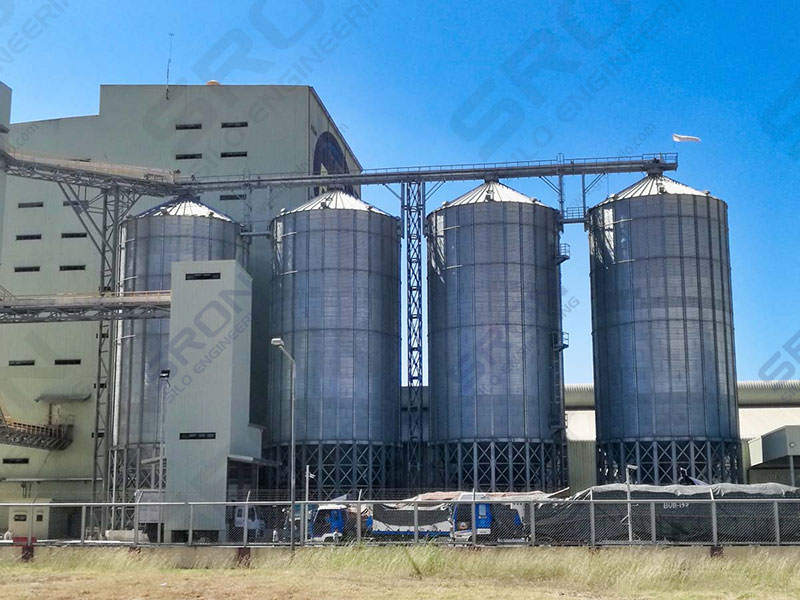 1. Large oil processing plants with a daily processing capacity of 2000 tons or more: Usually it is necessary to build 50000 to 80000 tons of steel silo storage. In addition, because of the single soybean variety, it is relatively economical to build large bolted silos with a single silo capacity of 10000 to 15000 tons. In addition, at present, large starch and other corn deep processing enterprises have a large daily processing capacity, so it is also recommended to choose this large bolted steel silo.

2. Medium-sized oil processing plants and medium-sized corn deep processing enterprises: It is appropriate to choose a single bolted steel silo with a capacity of 5000~7500 tons.

3. Flour processing enterprises: For flour processing enterprises, the steel silo shall be selected according to the actual situation. There are many varieties of wheat and many bolted silos are needed. Therefore, the single silo capacity of bolted silos should be about 1000~2000 tons. The silo capacity is determined according to the daily wheat processing capacity.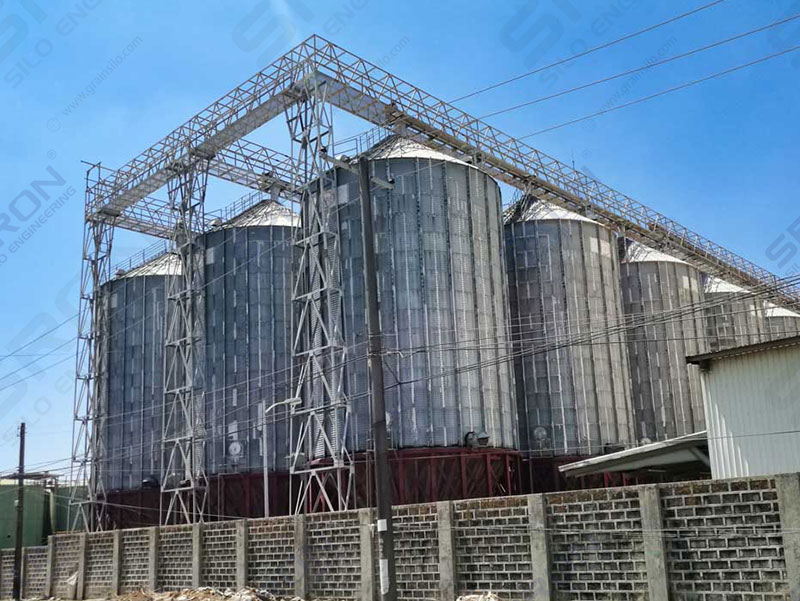 4. Malt and beer processing industry: The single silo capacity is about 1000~1500 tons.

5.

Feed processing industry

: The single bolted silo capacity is about 1000~3000 tons.

6. Rice processing industry: The capacity of most bolted steel silos constructed at present is not large, and the single silo capacity is below 1000 tons.

7.

Grain port terminal industry

: The port, as a transit place for grain, has a large construction capacity and a short transit period. The storage capacity of bolted silo in sea port is about 2 million tons, and the general single silo capacity is between 5000 and 15000 tons, the discharging method is mainly flat bottom grain discharging.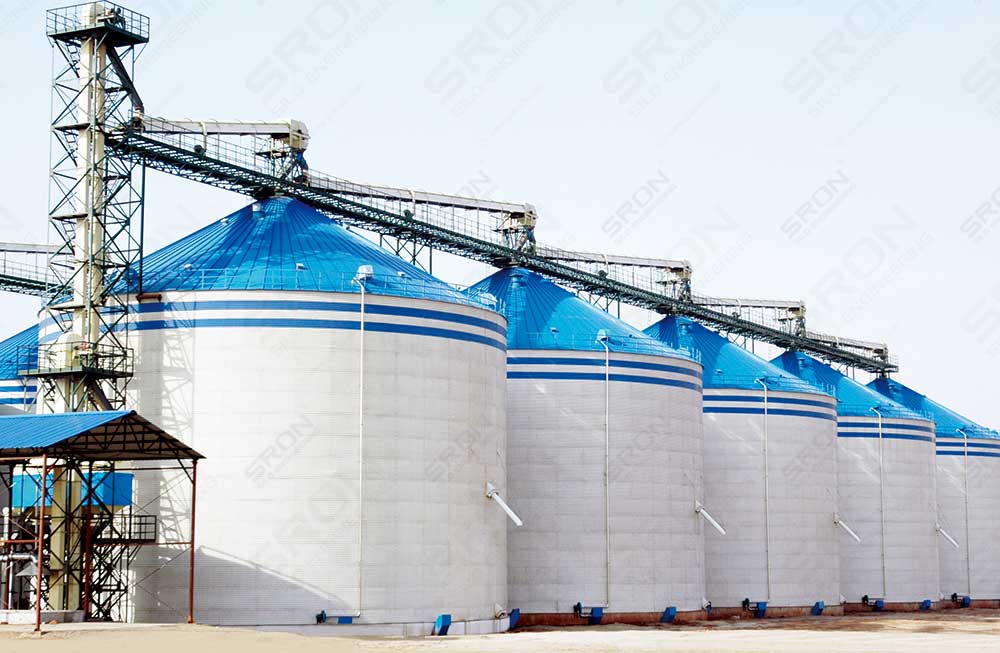 Performance of grain bolted silo:
1. Hot galvanized coil, flat plate or electric galvanized plate can be used, it is more convenient to get silo plate materials.

2. All components are standard components, which are replaceable. Users can easily replace damaged components and extend their service life in case of damage or corrosion during use;

3. It can be renovated and demolished, especially for users who rent the site;

4. It can realize the form of external column, which is more beneficial to the flow of grain in the silo;

5. Although the air tightness is slightly lower than that of spiral silo, the use of silicone sealant can meet the requirements of air tightness;

6.
Double layer thermal insulation structure can be conveniently realized, with little cost increase.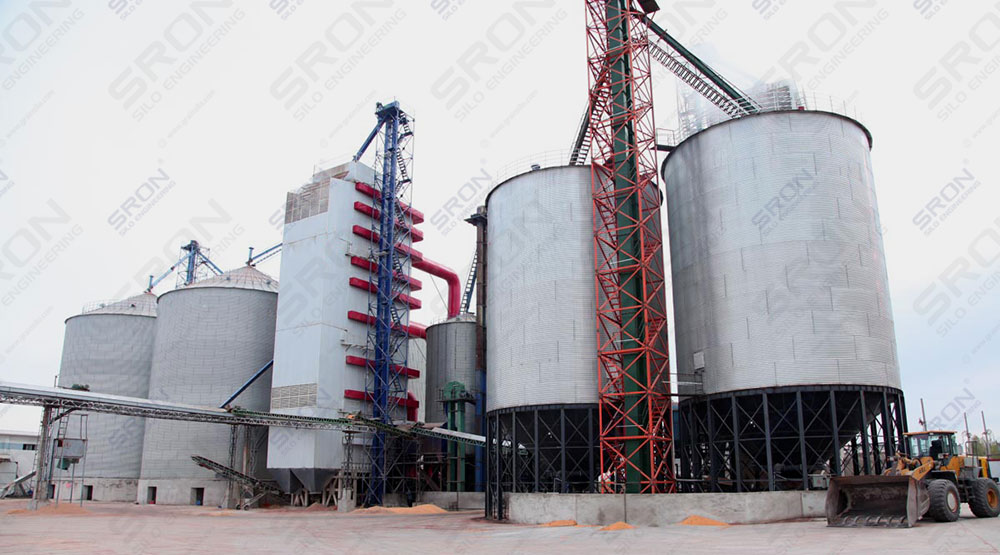 About Sron Silo Engineering

HENAN SRON SILO ENGINEERING Co., Ltd. is China leading reputable EPC Contractor for grain storage silo project, closed storage yard, and grain port handling project for grain silo storage solution etc. SRON has the qualifications of Main Contractor for civil construction projects, Main Contractor for mechanical and electrical projects, and Specialized Contractor for steel structure project. We have the complete qualifications in the field of bulk material storage and transportation in China.

SRON focuses on scientific and technological research, achieving new researching technologies each year. Currently we have 62 patented technology, among which 7 are invention patents.

SRON have built projects in more than 30 countries and regions, including Russia, South Africa, Indonesia, Malaysia, Kenya, Mongolia, Philippines, Peru and so on, with more than 900 sets of steel silos and up to 3 million tons of materials storage capacities, SRON quality and reputation are highly recognized by global users. For more information about Sron Silo Engineering and the Storage silo solution, please contact us or leave your requirements.
Technology Builds the Beauty of Project