Jan.12, 2023Keywords:Galvanized Bolted Steel Silo, Corn Storage Silo, Corn Dryer Tower

Corn has become a staple food in many parts of the world, and the total production of corn exceeds that of wheat or rice. Corn is used for animal feed, various corn-based human food applications, and as a raw material for the chemical industry. Corn is also used to make ethanol and other biofuels. With the large-scale and mechanized production of related enterprises, the demand for corn has also increased. Therefore, we have higher requirements for its early transportation, cleaning and storage. If the corn is not stored properly, it will cause mildew and insects in the corn, which will not only cause serious economic losses, but also cause safety hazards if the moldy corn is used to make food. Therefore, it is more and more important to store corn correctly, rationally and scientifically.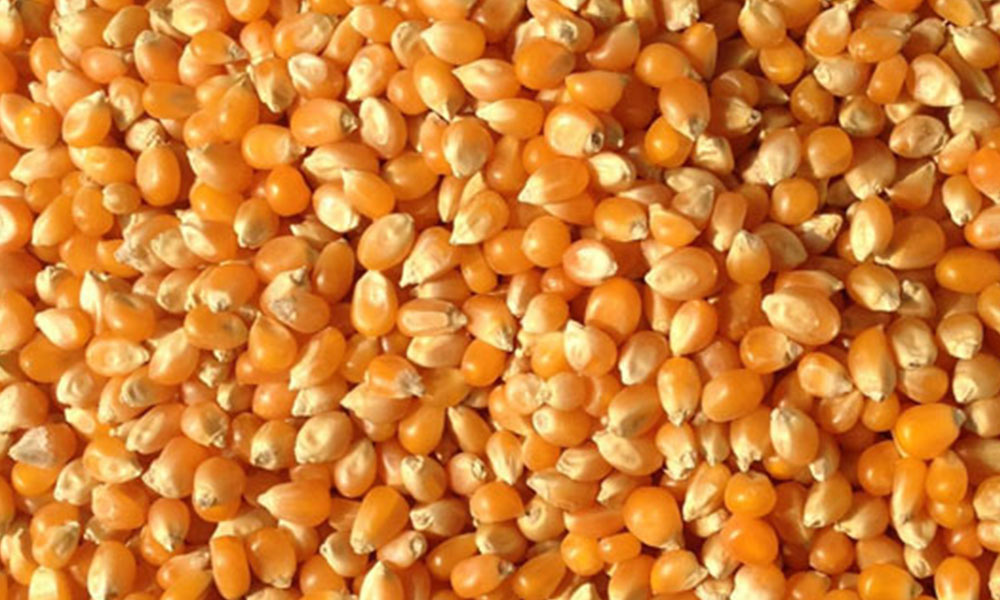 Corn Storage Conditions and Precautions

Under normal circumstances, corn storage requires a moisture content of less than 13%, temperature control within 25℃, and waterproof and moisture-proof treatment, so that it can be stored safely for a long time.
Preparation and Supporting Equipment for Corn Storage Before Entering the Silo

After corn is stored for a period of time, the amount of bacteria carried by it is much higher than that of other grains. Corn germs are the first places insects and molds attack. After the embryo is absorbed by the water, the mold will reproduce in large numbers, and it will start to mold at an appropriate temperature. Therefore, the key to the safe storage of corn is to improve the quality of stored corn and reduce the moisture content of the grain. Now many corn processing manufacturers have a soft spot for corn drying towers, because with a corn drying tower, they don't have to worry about drying corn anymore. Drying corn is a very labor-intensive job, and it must be coordinated with the weather. If the weather is not good, there will be continuous rainy weather, which will affect the drying process of corn, and in severe cases, it will also lead to mildew and deterioration of corn to reduce economic value.The corn drying tower is installed outside the silo.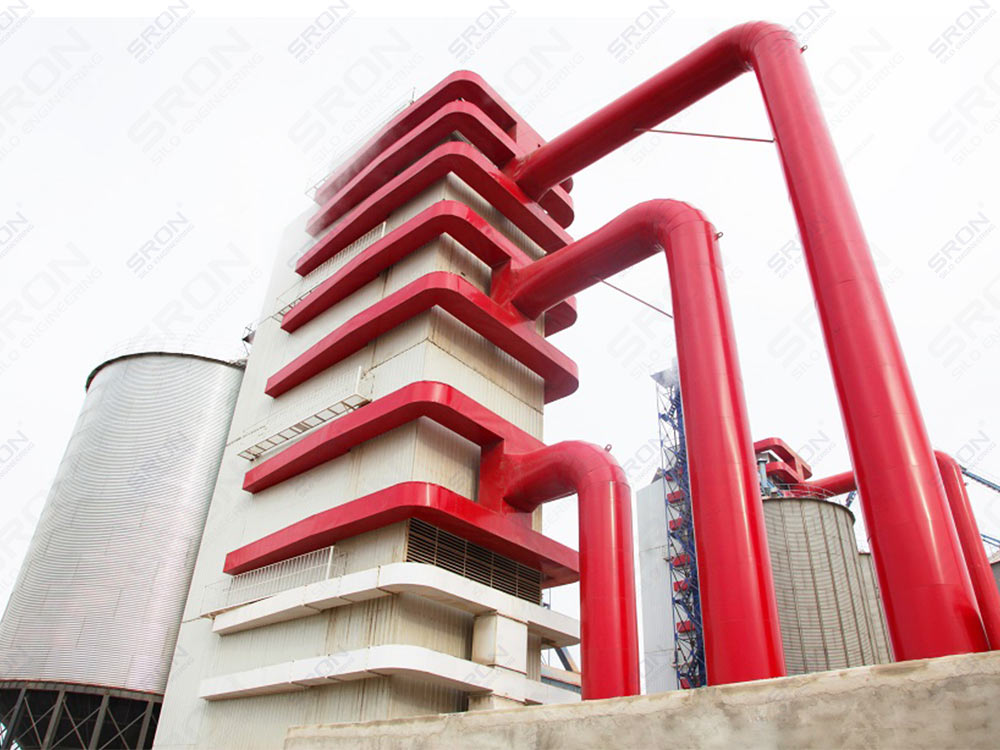 The corn drying tower consists of a material storage layer, a drying layer, a tempering layer, a cooling section, a grain output mechanism, an emergency grain unloading mechanism, a tower frame, a hot air inlet mechanism, a moisture removal mechanism, a hot air blower mechanism, a cooling blower mechanism, and a supporting motor. and other components. It is often used in large-scale grain storage projects. It is suitable for high-quality drying of rice, sorghum, soybean, corn, wheat and other grains.


The corn dried by the corn drying tower can reach the moisture standard for safe storage, so it can be safely stored.
Corn Storage Method

With the mechanized production of enterprises, the storage of corn cannot be satisfied with the previous bag storage, and more manufacturers choose to use large corn storage silos. SRON corn bolted steel silo is made of galvanized steel. This kind of steel plate has excellent corrosion resistance and sealing performance, which makes the silo durable and has good moisture-proof and waterproof performance, which is very suitable for large-scale corn storage.



Galvanized corrugated bolted steel silos are widely used in the storage of corn, flour, rice and other grains, and steel silos can be designed and produced according to the special requirements of clients.

The galvanized corrugated silos produced by SRON are widely used in the field of grain storage. According to the different storage needs of clients, the corrugated bolted silos can be divided into small bolted steel silos and large bolted steel silos.

Small bolted steel silos with a diameter of 1.8m, 2.7m, and 3.6m are economical and easy-to-assemble silos, which are professionally used in feed mills, wineries, grain processing plants, food processing plants, plastic pellet processing plants, etc. The largest diameter of the large bolted steel silo can reach 30 meters, and the storage capacity can reach 15,000 tons. Our steel silos are made of standard 275g/m2 hot-dip galvanized steel, with a service life of 25-30 years.


Features of Corrugated Bolted Steel Silos

The corrugated bolted steel silo is a steel silo assembled by completing cutting, arc pressing, drilling and other processes in the factory, transporting the finished product to the construction site, and connecting and assembling with high-strength bolts on site. The bolted silo has the following characteristics:
1. Compared with other types of steel silos, corrugated bolted steel silos are light in weight and have low requirements on the foundation, so they consume less steel and reduce the basic cost.
2. Bolted steel silos can be assembled directly on site, with fast construction speed and low technical requirements for installers;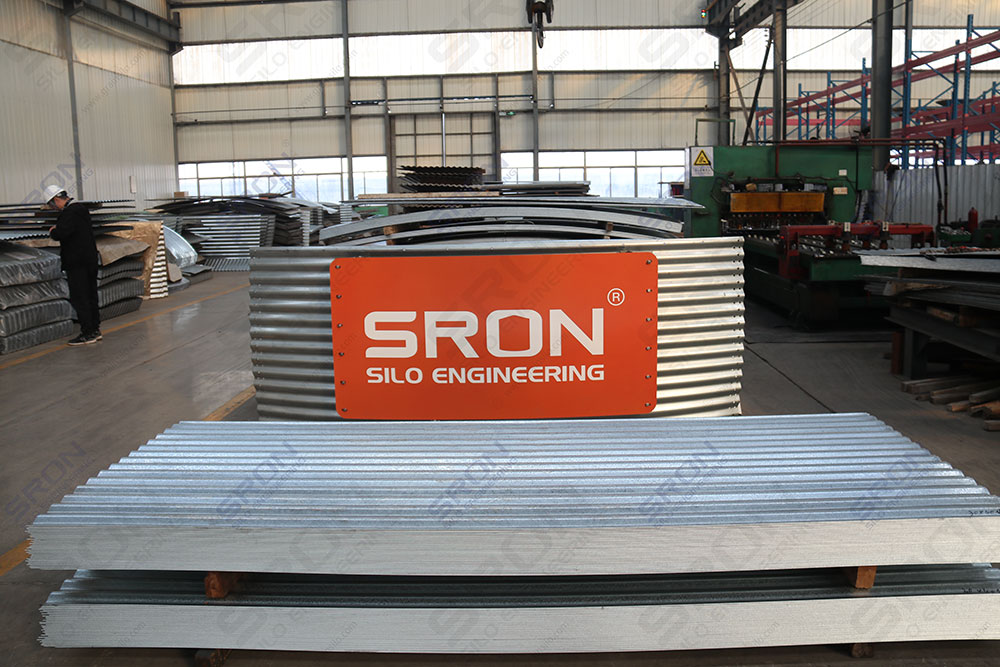 3. Bolted steel silo can be disassembled, reassembled and reused; the steel silo is easy to disassemble, easy to maintain, and partly damaged equipment can be replaced.
4. The bolted steel silo has a high degree of standardization. According to domestic materials, standardization, generalization and serial production can be adopted, and standard parts can be produced and installed on site.
5. The assembly of bolted steel silo is simple and fast, and all its parts are connected by bolts, thus shortening the construction period.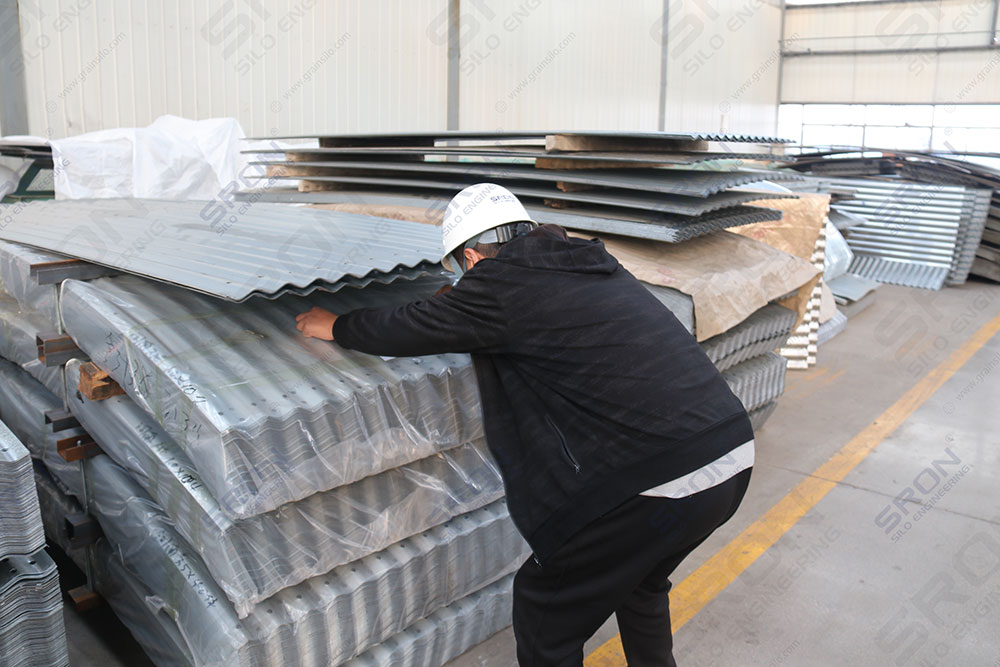 6. The maintenance cost of the steel silo is low, and the service life is suitable, which can generally reach about 30 years.
7. The bolted steel silo is easy to realize mechanization. In the bolted steel silo, it can be conveniently equipped with equipment such as feeding, discharging, cleaning, ventilation, temperature measurement, and detecting the fullness of the silo to achieve the purpose of safe grain storage.


Accessories for SRON Corrugated Bolted Steel Silos

1.Ventilation System: The top of the silo is equipped with natural ventilation windows and induced draft fans, and the bottom of the silo is equipped with a blower to discharge air into the silo for circulation to prevent the grain from getting wet and greatly ensure the quality of the grain in the silo.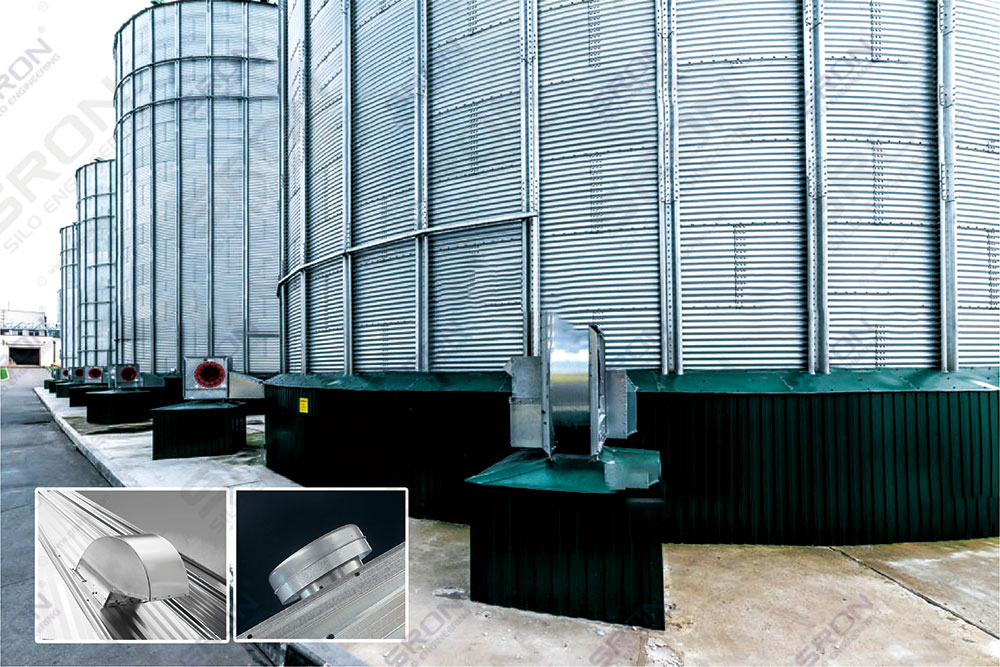 2. Temperature and Humidity Measurement System, Grain Situation Monitoring System: Through this system, clients can grasp the temperature and humidity in the storage silo anytime and anywhere, and control the situation in the storage silo.
3. Material Level Monitoring System: The material level gauge can monitor the emptiness of the grain silo. When the grain is about to fill the entire silo, the device sends out an alarm signal to effectively control the grain in the storage silo.


About Sron Silo Engineering

HENAN SRON SILO ENGINEERING Co., Ltd. is China leading reputable EPC Contractor for grain storage silo project, closed storage yard, and grain port handling project for grain silo storage solution etc. SRON has the qualifications of Main Contractor for civil construction projects, Main Contractor for mechanical and electrical projects, and Specialized Contractor for steel structure project. We have the complete qualifications in the field of bulk material storage and transportation in China.

SRON focuses on scientific and technological research, achieving new researching technologies each year. Currently we have 62 patented technology, among which 7 are invention patents.

SRON have built projects in more than 30 countries and regions, including Russia, South Africa, Indonesia, Malaysia, Kenya, Mongolia, Philippines, Peru and so on, with more than 900 sets of steel silos and up to 3 million tons of materials storage capacities, SRON quality and reputation are highly recognized by global users. For more information about Sron Silo Engineering and the Storage silo solution, please contact us or leave your requirements.

Technology Builds the Beauty of Project