SRON

grain steel silos

are equipped with a series of automatic supporting devices such as automatic conveying system, dust removal equipment, material level monitoring system, ventilation equipment, cleaning system, equipment failure detection and automatic alarm device, remote control system, etc. It greatly improves work efficiency and storage safety, and also ensures the quality of stored materials.

Good Thermal Insulation and Airtight Performance
It is convenient to deploy thermal insulation treatment and air-tight treatment, air-tight thermal insulation

steel silo

is conducive to fumigation and controlled atmosphere storage, and also has good insect and rat proof performance.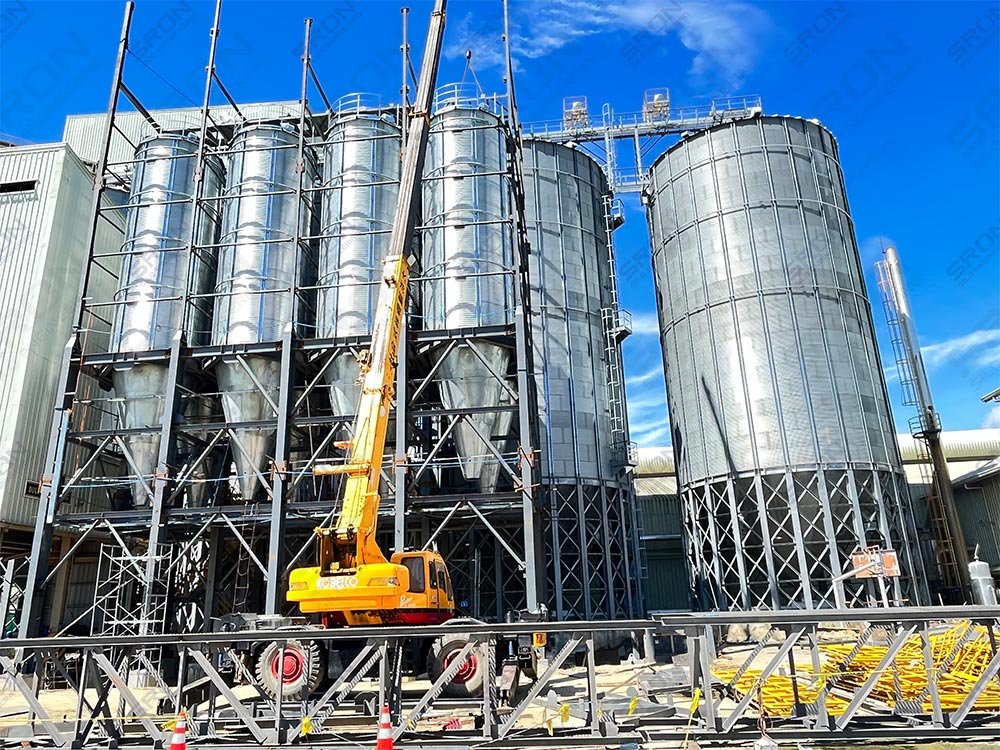 Rice Bran Silo Structure
The rice bran silo storage and transportation system is composed of conveying equipment, pre-cleaning, steel silo, ventilation system, dust removal system, moisture monitoring system, temperature control system, material level sensor, etc. The steel silo body includes wall panels, columns, roofs, manholes, ladders or steps, guardrails, etc. The steel of silo body is hot-dip galvanized for durability and weather resistance. Advanced bolts and wear-resistant rubber are used to ensure fastness and service life. Cleaning equipment includes cleaning sieves, vibrating screens, and dust removal equipment, and conveying equipment includes elevators, scrapers, belt conveyors, screw conveyors, etc.


Why Choose SRON as Steel Silo Manufacturer?
1. We have an excellent team with more than 20 years experience in silo construction.
2. As one of the largest steel silo manufacturers in China, the annual production capacity reaches 30,000 tons.
3. SRON provides a full-process turnkey project from consulting, design, production, on-site construction to silo system commissioning.