Features of Steel Silo
The steel silo has the characteristics of light weight, low foundation requirements, low cost, short construction period, good airtight moisture resistance, wide range of use, and convenient management; its supporting system is relatively complete, and the degree of mechanization and automation is high, which can meet the safety of grain storage and process operation performance, and meet the requirements of the development of grain silo. Because of its deep grain layer and thin silo wall, it is greatly affected by the external environment, but reasonable technology, supporting systems and effective grain storage management measures ensure the safety of steel silo storage grains. At the same time, the bolted silo also has the characteristics of detachable relocation, convenient disassembly and replacement of components, expandable capacity (for example, the original silo can be increased in height or diameter, etc.), and it is convenient to enter the silo for maintenance or sampling of stored materials. Therefore, the steel silo is becoming more and more accepted and used by the majority of users.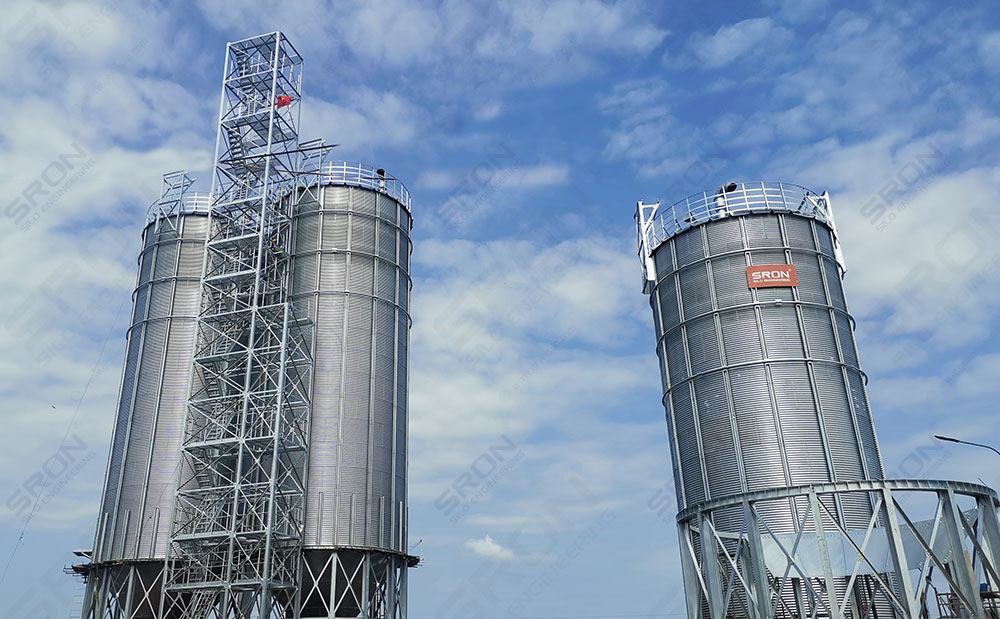 Steel Silo Storage Grain Technology

The grain layer in the steel silo is deep and the resistance is large. The moisture and temperature in the silo change in a gradient, which plays a certain role in grain metabolism, so it is not easy to dissipate heat and moisture, the ventilation airflow resistance is large, and the gas is not easy to penetrate the grain pile during fumigation; the silo has a large capacity. The large amount of grain in and out of the silo is prone to dust explosions, causing personal casualties and serious economic losses. Therefore, it is very necessary to design a reasonable steel silo storage grain process, that is, the safe storage of grain in the steel silo should have supporting systems and processes such as grain entry and exit, ventilation, fumigation, grain condition monitoring and control, cleaning, dust removal, loading and unloading, silo dumping, and cooling. Grain in and out, ventilation, fumigation, and grain monitoring and control are necessary means of ensuring safe grain storage. Cleaning, dust removal, loading and unloading, silo dumping, and cooling systems are auxiliary means to ensure safe grain storage.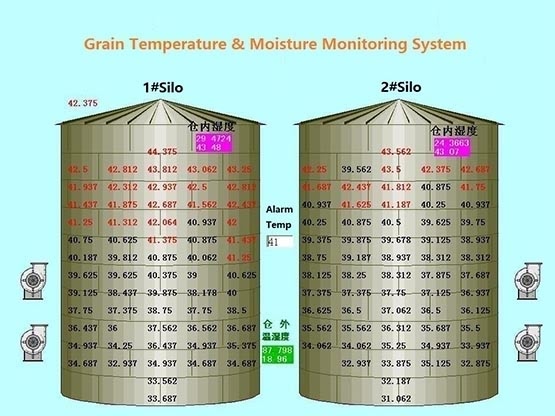 Grain Storage Safety
The investigation found that some steel silo users have taken cleaning measures, proper ventilation and better management measures, and the wheat has been stored for more than 3 years without any bad grains. Due to the lack of supporting technology and management, some users suffered serious insect pests and bad grain accidents within 6 months of grain storage. After grain storage investigation and practice, it has been proved that long-term grain storage in steel silo with good technological performance is safe, and is more and more recognized by the majority of users.


Grain Storage Efficiency
The steel silo has the advantages of light weight, low foundation requirements and low cost. The total investment cost is 20% to 40% lower than that of other types of silos of the same capacity; the construction period is short, an average of half of the construction period of concrete silos, the construction is basically not affected by factors such as seasons and weather, and the user can quickly achieve good economic benefit. The steel silo has a high degree of mechanical automation, and its management tends to be scientific, rational, and networked, which can effectively reduce operating costs.

About Sron Silo Engineering

HENAN SRON SILO ENGINEERING Co., Ltd. is China leading reputable EPC Contractor for grain storage silo project, closed storage yard, and grain port handling project for grain silo storage solution etc. SRON has the qualifications of Main Contractor for civil construction projects, Main Contractor for mechanical and electrical projects, and Specialized Contractor for steel structure project. We have the complete qualifications in the field of bulk material storage and transportation in China.

SRON focuses on scientific and technological research, achieving new researching technologies each year. Currently we have 62 patented technology, among which 7 are invention patents.

SRON have built projects in more than 30 countries and regions, including Russia, South Africa, Indonesia, Malaysia, Kenya, Mongolia, Philippines, Peru and so on, with more than 900 sets of steel silos and up to 3 million tons of materials storage capacities, SRON quality and reputation are highly recognized by global users. For more information about Sron Silo Engineering and the Storage silo solution, please contact us or leave your requirements.
Technology Builds the Beauty of Project